Welcome!
Live streaming services are currently available on our Facebook page at the following times:
-Sundays: 10 am
Great to have you here! You can tune in to our past sermons below and our past bible study lessons on our Bible Study page. Our recorded sermons and bible study videos are also available on our YouTube Page – click here and hit subscribe to stay up-to-date on all our services.
EMBRACING HOPE
Oct 18, 2020

Part 35 – Fearless Hope Part 4 October 18, 2020

Oct 4, 2020

Part 34 Fearless Hope Part 3 October 4, 2020

Sep 27, 2020

Part 33 Fearless Hope Part 2 September 27, 2020

Sep 20, 2020

Part 32 Fearless Hope September 20, 2020

Sep 13, 2020

Part 31 The Hope of Reconciliation September 13, 2020

Aug 30, 2020

Part 30 Hope that Stands the Test August 30, 2020

Aug 23, 2020

Part 29 Return to Hope August 23, 2020

Aug 16, 2020

Part 28.1 Don't Fear Change August 16 2020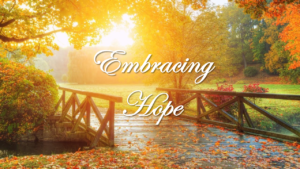 Our current sermon series is Embracing Hope. We have been looking into all that it means to truly hope in the Lord and rely on Him fully for ALL of our needs and trusting that He will provide, even if we cannot feel or see it.
It's one thing to understand the idea of hope, it's another thing to embrace it. To embrace something is to accept it, assimilate it, ultimately to do something with it. To embrace hope is to let it change you.
DOWNLOAD OUR APP
Our sermons and teachings are also available on our App. Download the Sharefaith App in the App or GooglePlay store and select Crossover_COG as your church.
EMBRACING GRACE
Jan 5, 2020

Part 24 – Embracing Hope Jan 05, 2020

Dec 15, 2019

Part 23 – Embracing Surrender Part 2 Dec 15, 2019

Dec 8, 2019

Part 22 – Embracing Surrender Part 1 Dec 8, 2019

Dec 1, 2019

Part 21 – Embracing Gratitude Dec 1, 2019

Nov 24, 2019

Part 20 – Grace Never Quits Nov 24, 2019

Nov 17, 2019

Part 19 – God Never Quits Nov 17, 2019

Nov 10, 2019

Part 18 – Don't Quit Nov 10, 2019

Nov 3, 2019

Part 17 – Lift and Drag Nov 3, 2019
NON-SERIES BASED SERMONS
Oct 11, 2020

United in Christ October 11, 2020

Sep 6, 2020

United in Hope – Part 2 September 6, 2020

Aug 9, 2020

United in Hope August 9, 2020

May 10, 2020

Mother's Day Service May 10, 2020

Dec 22, 2019

Let It Begin With Me Dec 22, 2019

Oct 10, 2019

Faith: The Conduit of Grace Oct 10, 2019

Jul 3, 2019

Fathers Day June 16, 2019

Jun 8, 2019

Holy Spirit Wind June, 2, 2019
"All Scripture is God-breathed and is useful for teaching, rebuking, correcting, and training in righteousness, so that the servant of God may be thoroughly equipped to every good work."
(2 Timothy 3: 16-17)